At ungava gourmet
We produce condiments and 100% natural tea from regionally sourced plants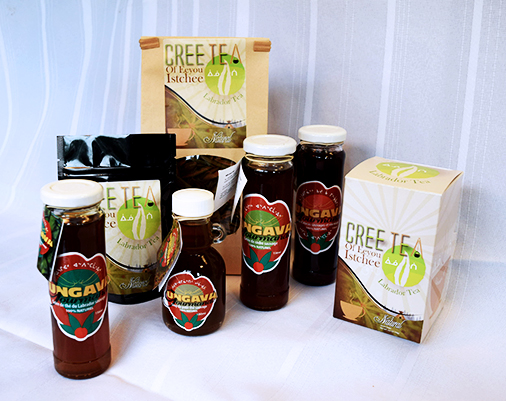 Discover our products
The products are 100% made in Waswanipi from regional vegetation as the main ingredients. The condiments are sold online or at various grocers in the region of Eeyou Istchee, Abitibi, Lac Saint-Jean and Montreal. If you are a game connoisseur, Then Ungava Gourmet products are perfect for you.
Our products, from Mother Earth to your plate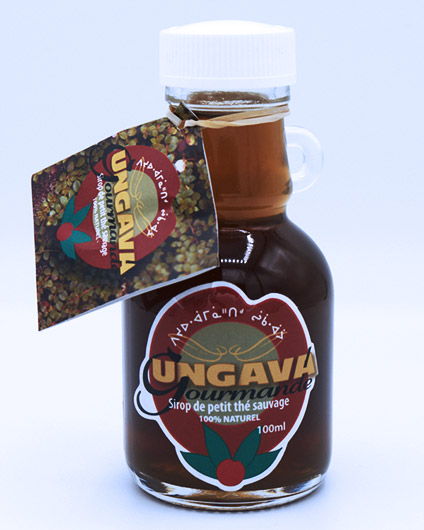 Creeping Snowberry Syrup
In general, the little wild tea grows on beds of moss and lichen and has the same taste as wintergreen berries. The little wild tea is made from the following ingredients: small wild tea, organic sugar and lemon juice. It is recommended to eat with breakfast, wild meat or desserts or to make a delicious marinade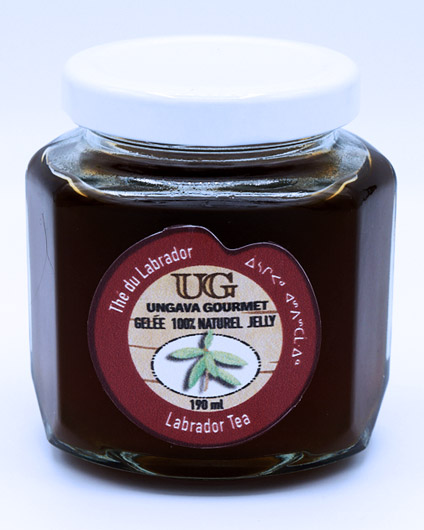 Labrador Tea Jelly
The aroma of this unique country food is made with Labrador tea, organic sugar, lemon juice and apple juice. This jelly reminds the splendid calm of the wild nature of the forest. The Labrador Tea Jelly can be paired with pork, fine cheese and wild game, such as wild fowl game.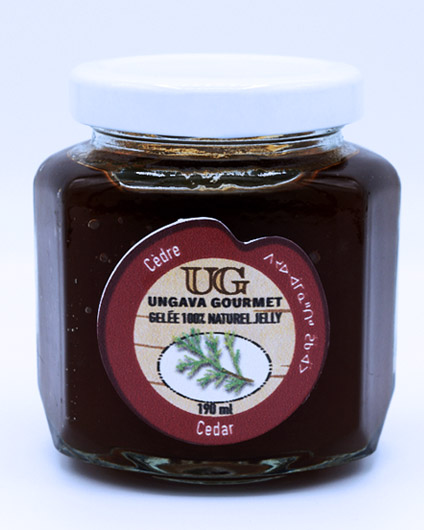 Cedar Jelly
This condiment has an exquisite taste of coniferous captured in a delicious jelly. It is made with wild cedar, organic sugar, apple juice and lemon juice. We suggest you to eat it with game meat and fish, such as walleye and salmon.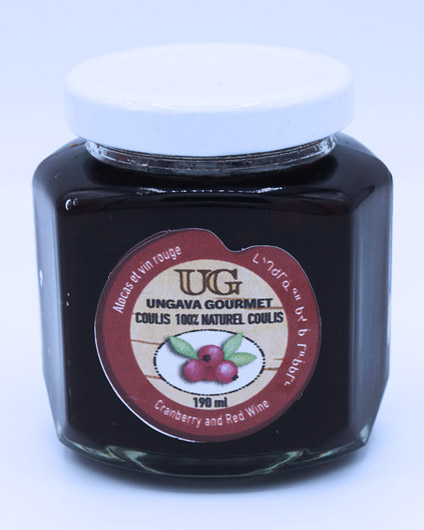 Wild Cranberry Coulis
This condiment is sweet with a hint of bitter relish made of cranberries simmered in organic sugar and red wine. This product pairs well with bread, bannock, poultry, pork or desserts.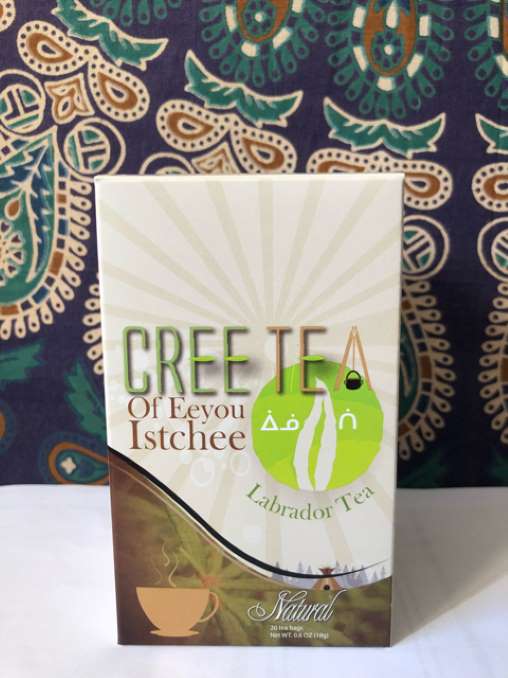 Cree Tea
An all natural product of labrador leaves. Labrador tea is an aromatic evergreen, native to Eeyou Istchee and Canada. It has been used in traditional medicine for upper respiratory ailments, and by homeopaths for skin infections and asthma. Labrador leaves are harvested within Eeyou Istchee.There are no additives or preservatives, the tea is 100% natural.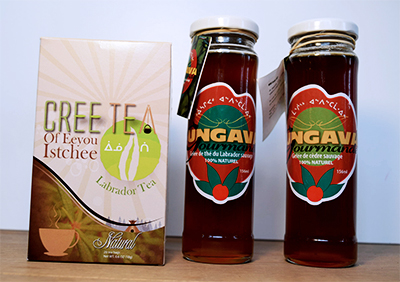 Mixed sample
Sample a variety of Ungava Gourmet products with the mixed sample. This package includes the aromatic Labrador tea Jelly, the exquisite cedar jelly and all natural Labrador tea sachets.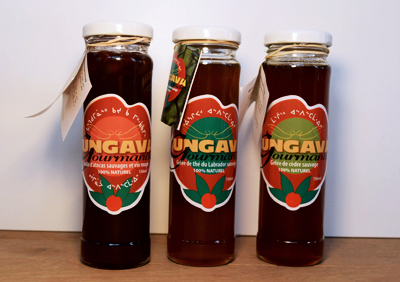 Mixed jam sample
Sample a variety of Ungava Gourmet products with the mixed jam sample. This package includes the aromatic Labrador tea Jelly, the exquisite cedar jelly and the beloved wild Cranberry Coulis.
Mission
Ungava Gourmet aims to be the best indigenous condiment producer in Canada.
Vision
Have a sustainable condiment and tea production business that enhances economic opportunity for the community of Waswanipi.
Value
We produce quality products and use simplicity to ensure sustainability in all that we do.
About Ungava Gourmet
The company was created in 2005 by Valerie Laprise and bought by Irene Neeposh in 2018. The company maintains a production practice that guarantees true sustainability, especially for harvesting.
Since the transfer of ownership, this company has updated its image, but has kept its wonderful recipes. The company marries the interests of the family; where Jocelyn, is in charge of product production, and Ella, the mother, who still lives off the land, guarantees sustainable harvesting practices, and Irene, is leads the branding, and sales, allowing the family to integrate the business operations into their lives.
By bringing UNGAVA GOURMET to Waswanipi, the business can serve as a commodity for the community and hopefully, serve as an inspiration to bring sustainable economic opportunities to the community and also the region.
The community of Waswanipi has a population of 1,850; 55% of which are under the age of 35, with a young population Ungava gourmet believes that bringing economic opportunities to the community will provide greater employment opportunity and nurture a culture of self-sustainability.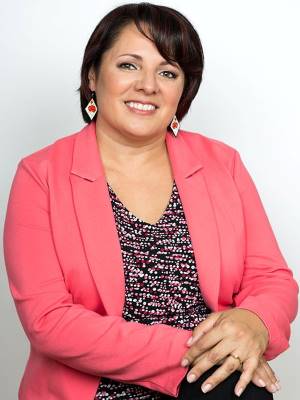 Irene Neeposh: Owner
Do you need additional information?